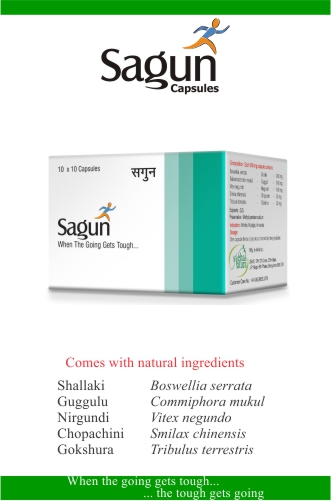 Sagun Capsule
Price : 560
Pack : 10 X 10's Capsule
Shipping : 135
Availability : In Stock
ADD TO CART
BUY
SAGUN CAPSULE
:
Keeps the joints mobile

Action:
Potent analgesic, anti inflammatory, anti arthritic.

Sagun capsule is a phytopharmaceutical formulation that relieves joint and bone ache associated with various orthopedic ailments. Its natural ingredients possess potent anti-inflammatory properties that alleviate pain. As an immunomodulator, Sagun capsule modulates both the humoral and cell-mediated immune response to pain. The medicine has strong anti-arthritic properties that work to combat arthritis.

Indications:
1. Rheumatoid arthritis
2. Cervical and lumbar spondylosis
3. Osteoarthritis
4. Arthralgia
5. Gout
6. Frozen shoulder
7. Traumatic inflammatory conditions like fibrositis, bursitis, synovitis, capsulitis, tenosynovitis, myositis and sciatica

Key ingredients:
Shallaki: A promising alternate to NSAID's, immunomodulator, inhibits classical complement pathway, and regulates prostaglandins synthesis & its activity.
Guggulu: Balances lipids, hypocholestrimic, excellent atherosclerotic agent. It reduces weight & obesity.
Nirgundi: Analgesic and anti arthritic.
Gokshura: Strong Cox 2 inhibitor.
Chopachini: Removes excess of uric acid and prevents uric acid crystals in gouty arthritis.

Directions for use:
2 capsule twice / thrice in a day depending upon the severity or as directed by the Health care professional..

Pack:
Box of 10x10's Capsules

Side effects:
Sagun capsule is not known to have any side effects when taken according to the prescribed dosage.

The information on this page is not intended to be a substitute for professional medical advice. Do not use this information to diagnose or treat your problem without consulting your Healthcare professional.