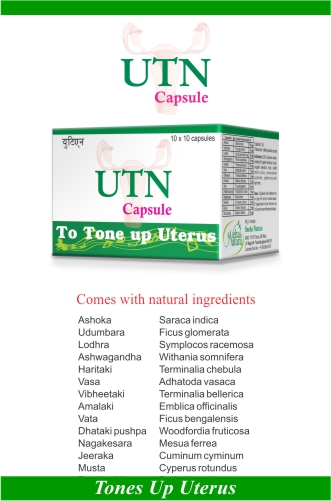 UTN Capsule
Price : 560
Pack : 10 X 10's Capsule
Shipping : 135
Availability : In Stock
ADD TO CART
BUY
UTN CAPSULE:
Uterine Tone Normaliser.

Action:
Regularizes menstrual cycle: UTN repairs the endometrium (inner membrane of the uterus), regularizes endogenous hormonal secretion, corrects the cyclical rhythm and relieves the symptoms of dysfunctional uterine bleeding. It is also a hemostatic that stops heavy bleeding.
Pain relief:
The antispasmodic and anti-inflammatory properties of UTN are helpful in alleviating pain during menstruation or menstrual disorders.
Haematinic:
UTN stimulates the immune system and helps in increasing the level of hemoglobin in the blood. This action is beneficial in treating anemia and weakness associated with uterine disorders.
Improves fertility:
Hormones known as gonadotropins are responsible for regulating follicle maturation, ovulation and normalizing estrogen and progesterone levels. Gonadotropins are important to the system that regulates normal growth, sexual development and reproductive function. UTN improves fertility by normalizing these hormone levels.
Indications:
1. Premenstrual syndrome
2. Dysmenorrhea (menstrual cramps)
3. Menstrual irregularities like menorrhagia (heavy menstrual bleeding), metrorrhagia (menstrual bleeding at irregular intervals) and oligomenorrhea (infrequent menstrual bleeding
4. Dysfunctional uterine bleeding
5. Assisted conception
Key ingredients:Ashoka :
It has potent estrogenic properties, which repair the endometrium, regulate estrogen levels and help heal the inflamed endometrium during menstruation
Lodhra:
Improves fertility by regulating ovarian hormones
Udumbara & Vata :
Time tested - Hemostyptics
Ashwagandha:
Rejuvenator and De-stressor
Nagakesara :
Analgesic and Anti- inflammatory
Amalaki :
Powerful Antioxidant
Action:
UTN provides 10 essential actions:

Resets E-E-N Balance

Corrects Irregularities

Normalizes Menstrual Cycle

Controls Excessive Uterine Bleeding

Reduces Discomfort of Dysmenorrhoea

Restores emotional status

Extends excellent Anxiolytic & Tensiolytic properties

Promotes generation of endogenous antioxidants, reduces oxidative stress

Effective in DUB & Leucorrhea

Creates Fertile Uterine Environment

Directions for use:
2 capsule twice daily for 3 months depending upon the severity of condition or as directed by the Health care professional.
Pack:
Box of 10 x 10's capsules

Side effects:
UTN is not known to have any side effects if taken as per the prescribed dosage.
The information on this page is not intended to be a substitute for professional medical advice. Do not use this information to diagnose or treat your problem without consulting your Healthcare professional.