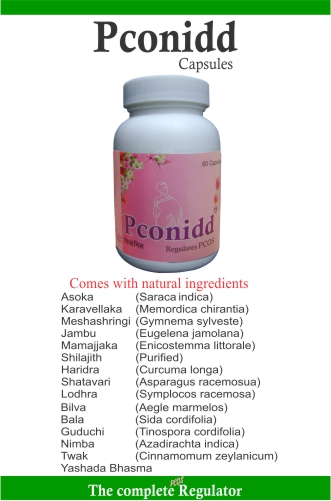 Pconidd Capsule
Price : 360
Pack : 60's Capsule
Shipping : 135
Availability : In Stock
ADD TO CART
BUY
PCONIDD CAPSULE:The complete PCOS Regulator.Action:
Improves Ovulatory function in PCOD cases.

Ensures Ovulation stimulation and regulates menstrual cycles in PCOD patients.

Improves peripheral insulin sensitivity.

Helps attain normal body weight in obese patients.

Decreases androgenic features like hirsutism, acne & pimples, alopecia, acanthosis nigrans.

Indication:
PCOD

Acne / Pimples on face

Irregular menstrual cycle

Key ingredients:Satavari & Asoka :
Regulates hormonal balance & regulates ovulation.
Nimba & Guduchi :
Anti acne & Powerful anti oxidant.
Gymnema :
Regulates intestinal absorption of glucose.
Karela :
An excellent source of DCI (D-Chiro-Inositol) the cutting edge in improving insulin sensitivity and reduce hyperandrogenism considerably.
Jambu :
Powerful hypoglycemic agents.
Haridra & Neem :
Lipid peroxidation & lipid balance.
PCONIDD is specifically enriched with Mamajja, Shilajit, Lodhra, Bilwa, Bala, Twak and Yesada Bhasma.
Directions for use:
Two capsules twice daily half an hour before meals for 3-6 months.
A treatment for 3 - 6 months restores normal ovulation in large percentage of women of childbearing age or as directed by the Health cares professional.

Pack size:
Bottle of 60 capsules.

Side effects:
Pconidd is not known to have any side effects if taken as per the prescribed dosage.

The information on this page is not intended to be a substitute for professional medical advice. Do not use this information to diagnose or treat your problem without consulting your Healthcare professional.