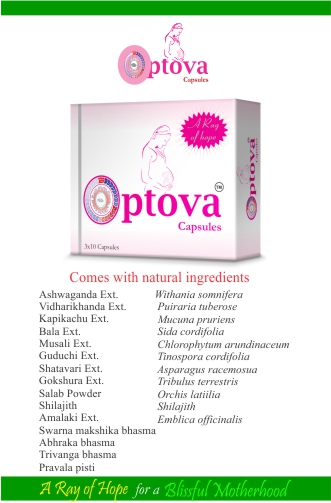 Optova Capsule
Price : 432
Pack : 3X10's Capsule
Shipping : 135
Availability : In Stock
ADD TO CART
BUY
OPTOVA CAPSULE:Ensures Ovulation.Action:
1. Prevents Habitual & threatened Abortions.
2. Positive effect on HPGA, increases LH, corrects LPD, thus improves Folliculogenesis.
3. Reduces Uterine artery pulsatility index, increases Endometrial vascularity,Endometrial thickness, Endometrial layering.
4. Cures vaginal conditions like dryness & painful intercourse, discharge and infections.
5. Increases libido & decreases frigidity.
6. Relieves emotional stress, lowers anxiety & promotes rejuvenation.
Indication:
Sub Infertility

Implantation failure

Recurrent miscarriage

Unexplained infertility

Key ingredients:Shivalingi
: Treats Female infertility & controls habitual abortions.
Ashwagandha
: Versatile health booster gives back vitality & reduces stress, increases fertility, libido & stamina.
Ashoka:
Rich source of phytoestrogens, restores hormonal balances pro estrogenic activity. Has a positive effect on HPGA, increases LH
Lodhra:
Regulates Menstrual cycle & arrests bleeding
Punarnava:
Enhances generation of new healthy cells.
Brahmi:
Emotional stabilizer
Aloe vera:
Excellent lubricant, anti inflammatory, corrects vaginal dryness & painful intercourse. It cures vaginal discharges and infections.
Abhraka bhasma:
Rich source of magnesium, aluminium, iron, potassium and calcium. Anti depressant & aphrodisiac.
Swarna makshika bhasma: Increases uterine health & insomnia.
Enriched with Dasamula extract, Bala, Shatavari and Nagakesara that enhance fertility and improve uterine health.
Trikatu extract:
Enhances the bioavailability of all ingredients for optimum benefits.
Directions for use:
2 capsule twice for three months followed by 1 capsule twice till conception occurs or as directed by the Health care professional..
Pack size:
Box of 3x10's capsule

Side effects:
Optova is not known to have any side effects if taken as per the prescribed dosage.

The information on this page is not intended to be a substitute for professional medical advice. Do not use this information to diagnose or treat your problem without consulting your Healthcare professional.