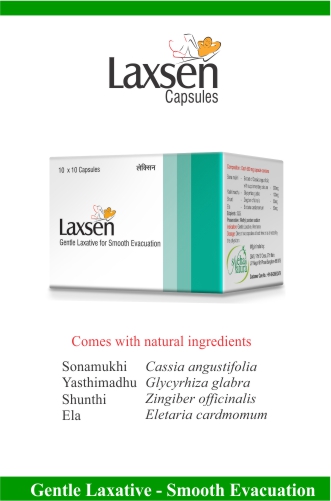 Laxen Capsule
Price : 490
Pack : 10 X 10's Capsule
Shipping : 135
Availability : In Stock
ADD TO CART
BUY
LAXSEN CAPSULES:
Gentle laxative for smooth evacuation
Action:Relieves constipation:
The natural ingredients in Laxsen soften the stool and enhance intestinal motility, which relieve acute and chronic constipation effectively. Due to its laxative property, the drug assists excretion without upsetting the fluid-electrolyte balance (mineral and water balance) in the body. Laxsen is non-habit forming and does not result in physiological dependence.
Indications:
1. Chronic constipation
2. Constipation during postoperative and non-ambulatory periods
3. Pre-radiographic bowel preparations
4. IBS
5. Piles
Key ingredients:Sonamukhi:
is an excellent purgative, anti spasmodic, wormicidal & wormifungal.
Yastimadhu:
Excellent carminative, reduces abdominal discomfort.
Shunti
: Digestive catalyst, relieves abdominal distention, enhances bio-availability & bio utilization of consumed ingredients.
Ela:
Improves the taste buds, anti emetic, improves secretions for proper digestion.
Directions for use:
2 Capsules at bed time on hour before sleep with sufficient water and a large glass full of warm water the next day morning or as directed by your Health care professional..
Pack:
Box of 10 x 10's capsules

Side effects:
Laxsen is not known to have any side effects if taken as per recommended dosage or as per the prescribed dosage.

The information on this page is not intended to be a substitute for professional medical advice. Do not use this information to diagnose or treat your problem without consulting your Healthcare professional.