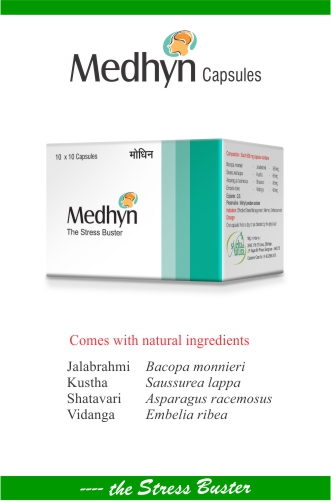 Medhyn Capsule
Price : 540
Pack : 10 X 10's Capsule
Shipping : 135
Availability : In Stock
ADD TO CART
BUY
MEDHYN CAPSULE:
The stress buster.
Action:
The calming effects of Medhyn Capsule are beneficial in treating insomnia and convulsions.
As an adjuvant in neurological diseases:
Due to its neuroprotective (important neurotransmitter in the brain), adaptogenic and antioxidant properties, Medhyn is useful as an adjuvant in the treatment of anxiety, depression, stress, mood disturbance and also as ideal co therapy with anti convulsive drugs.
Indications:
1. Behavioral disorders - social behavior, aggressive behavior.
2. Anxiety and stress-related disorders
3. Mental fatigue
4. Supportive therapy in mild to moderate mental retardation
5. Highly effective in Migraine headache & tension related headache.
6. Memory and attention fluctuation, concentration impairment,
Key ingredients:Jala Brahmi (Bacopa monnieri):
Maintains cognitive function. Well known for its memory enhancing effect, the herb enhances memory and learning. It is also known to calm restlessness and is used to treat several mental disorders. It promotes cognition as it is a Medhya rasayana and has powerful anxiolytic and de stressor activities.
Yastimadhu:
Memory enhancer.
Kusta:
Promotes good sleep
Shatavari:
Adaptogenic & Anti stress
Vidanga:
Nervine tonic
Directions for use:Dosage:
One capsule two or three times daily for 6 months or as directed by your health care professional for the dosage that best suits the condition.
Pack:
Each box contains 10 x10 Capsules

Side effects:
Medhyn is not known to have any side effects if taken as per the prescribed dosage.

The information on this page is not intended to be a substitute for professional medical advice. Do not use this information to diagnose or treat your problem without consulting your Healthcare professional.