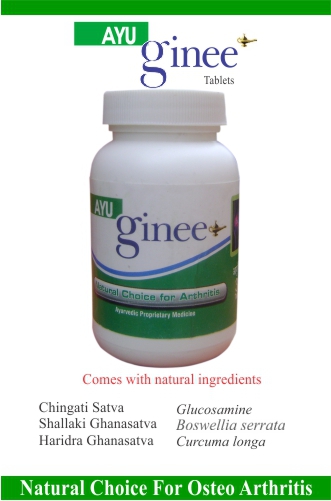 Ayu Ginee Tablets
Price : 470
Pack : 30's Tablet
Shipping : 135
Availability : In Stock
ADD TO CART
BUY
AYUGINEE TABLET:
Best joint support and promotes optimal joint function and flexibility.
Action:
AyuGinee tablet is a potent and safe phytopharmaceutical formulation that relieves joint and bone aches associated with various orthopedic ailments. Its natural ingredients possess potent anti-inflammatory properties that alleviate pain. AyuGinee reduces degeneration of glycosaminoglycans (GAGs'), inhibits master cytokines and prevents cartilage damage.
Indications:
1. Rheumatoid arthritis
2. Osteoarthritis
3. All painful conditions of joints
Key ingredients:Chingati satva:
It is a naturally occurring amino glycoside (Glucosamine) in the human body, which stimulates Glycosaminoglycans which is vital for articular cartilage. It helps in shock absorbing properties and has a Chondro protective activity.
Chingati satva also enhances Glycoprotein metabolism which helps in construction and maintenance of all connective tissues and lubricating fluids in the body.
It helps
1. To rebuild the cartilage
2. Prevents cartilage break down
3. Constructs and maintains connective tissues and Lubricating fluids.
Shallaki:
Gum resin extract is effective in reducing joint swelling, pain, stiffness and other symptoms of inflammatory joint disorders including rheumatoid arthritis and osteoarthritis. The herb improves the blood supply to the joints and restores the integrity of blood vessels destroyed by spasms. The degradation of glycosaminoglycans, which leads to articular damage and cartilage breakdown, is a common condition in patients on non-steroidal anti-inflammatory drugs (NSAIDs). Shallaki significantly reduces the degradation of glycosaminoglycans and protects the joints.
Haridra Ghana satva:
Standardized to 90% curcuminoids. It is a powerful antiseptic, antibiotic & anti allergic agent. Good anti oxidant. It is highly effective in ankylosing spondilitis.
Directions for use:
One tablet twice in a day or as directed by the Health care professional..
Pack:
30's container

Side effects:
AyuGinee is not known to have any side effects when taken according to the prescribed dosage.

The information on this page is not intended to be a substitute for professional medical advice. Do not use this information to diagnose or treat your problem without consulting your Healthcare professional.