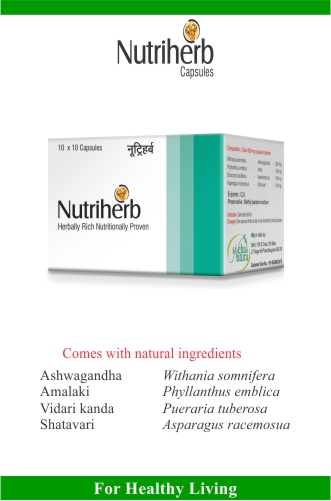 Nutriherb Capsule
Price : 490
Pack : 10 X 10's Capsule
Shipping : 35
Availability : In Stock
ADD TO CART
BUY
NUTRIHERB CAPSULE:
Rejuvenates good health naturally, promotes the 5 critical parameters for good health as it is nutritionally proven & herbally rich

Action:
Enhances immunity: As an immunomodulator,Nutriherb tonic stimulates the immune system to respond against disease causing microorganisms.
Antistress: Nutriherb tonic is an adaptogenic which effectively combats stress and fatigue. It also increases stamina and improves overall performance.
Antioxidant: The natural ingredients in Nutriherb tonic work synergistically to prevent free radical-induced oxidative damage to various organs. The ingredients are natural rejuvenators and energy enhancers.
Improves appetite & digestion
Ideal rejuvenator for Diabetics too.

Indications:
1. Poor health
2. Exhaustion & general debility
3. Stress-related anxiety
4. Chronic fatigue syndrome (CFS)
5. Prolonged illness and postoperative convalescence (as an adjuvant)

Key ingredients:
Ashwagandha: is an unique herb with antistress and adaptogenic properties that improves physiological endurance and protects against the effects of stress. It is an antioxidant which scavenges on free radicals in cells that are responsible for premature aging. The herb helps in limiting the formation of these free radicals and subsequently preventing the early aging process.
Shatavari: It is a rejuvenator, adaptogenic and energy booster. A good galactagoge , increases breast milk in lactating woman
Amalaki: Powerful antioxidant, immune booster and increases resistance against infections.
Vidarikanda: Promotes strength, enhances skin glow and increases Hb% in blood.

Directions for use:
One capsule twice daily or as directed by the Health care professional. Can be continued for longer periods.

Pack:
Box of 10 x 10's capsules.

Side effects:
Nutriherb is not known to have any side effects if taken as per the prescribed dosage.

The information on this page is not intended to be a substitute for professional medical advice. Do not use this information to diagnose or treat your problem without consulting your Healthcare professional.