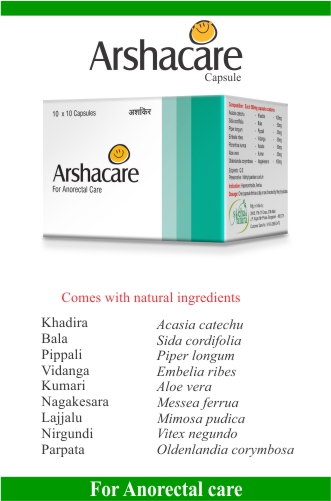 Arshcare Capsule
Price : 560
Pack : 10 X 10's Capsule
Shipping : 135
Availability : In Stock
ADD TO CART
BUY
ARSHACARE CAPSULE:Proven protection from proctal problems.Action:
1. Hemostyptic
2. Anti inflammatory
3. Analgesic & Astringent
4. Anti pruritic, wormifugal
5. Antiseptic
6. Soothing lubricant, Mild laxative.
Indication:
1. Haemorrhoids/Piles
2. Proctitis
3. Pain/Inflammation/Swelling
Key ingredients:Nagakesara:
Hemostyptic
Khadira, Bala:
Anti inflammatory, Analgesic.
Vidanga:
Anti pruritic, wormifungal.
Pippali:
Antiseptic
Aloe:
Soothing lubricant & Mild laxative.
Katuki:
Shrinks the pile mass
Parpata:
Helps defecation
Directions for use:
One capsule twice daily or as advised by your Health care professional.
Pack size:
Box of 10 x 10 Capsules

Side effects:
Arshacare is not known to have any side effects if taken as per the prescribed dosage.

The information on this page is not intended to be a substitute for professional medical advice. Do not use this information to diagnose or treat your problem without consulting your Healthcare professional.